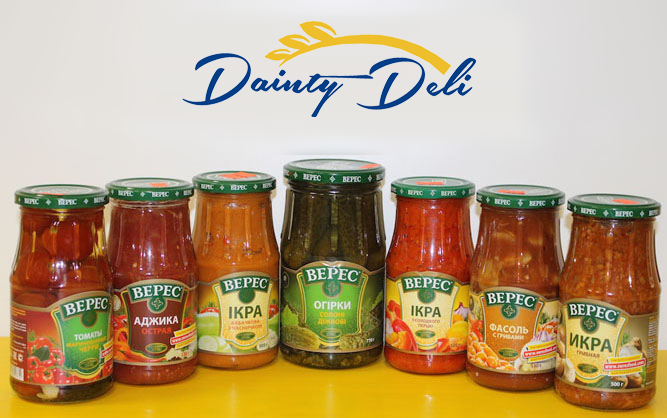 "Welcome to Dainty Deli a new European deli in Mississauga. Our deli attempts to bring a piece of European culture into Mississauga through our products. We offer a great assortment of fresh meats and cheeses, delicious and fresh pastry, homemade sweets, seasonal fruits, products from Europe and many other delicacies that will bring the sensation of you visiting Europe. We do not only focus on the foods from the Western Europe as we offer the great variety of Eastern European products."
Бакалійні товари (чай, кава, борошно, крупи, макаронні вироби, олія, соуси, томатна паста, майонез, приправи для приготування м'яса та риби, сухарики крекери, молоко згущене та інші товари);
Молочна група товарів (молоко, кефір, простокваша, гуслянка, масло, сметана, сир, сирна маса та інше);
Напої (води мінеральні, газована вода з різними смаками, соки, морси, квас та пиво).
Кондитерські вироби (цукерки від виробників з України, шоколад, печиво, тістечка та торти).